The premier accelerator for commercializing energy hardtech innovations
REACH (Regional Energy Accelerator for Commercializing Hardtech) is powered by Innosphere Ventures and the CSU Energy Institute, organizations that understand R&D-intensive industries and how to address the unique challenges of energy hardtech startups.
The program provides hardtech-based consulting, prototyping, testing, technoeconomic analysis support, market research, and other business support services. Participants accepted into the program must be located in Mid-America. We're now accepting applications from energy hardtech startups, entrepreneurs, university faculty, and founders to join the 2022 accelerator!
Application deadline:
December 1, 2021; however, potential participants are encouraged to submit as soon as possible.
Overview
Two-year, $1.25 million project creating sustainable energy hard-tech accelerator in Rocky Mountains / Great Plains region to:
address unique energy hard-tech start-up challenges
fill gaps in support for early-stage founders in small- and medium-sized metro areas with research universities and/or national labs
share resources, best practices, and lesson-learned through a technology accelerator tailored to the needs of regional energy hard-tech start-ups
strengthen regional energy innovation network; build capacity/community; and explore opportunities for future collaboration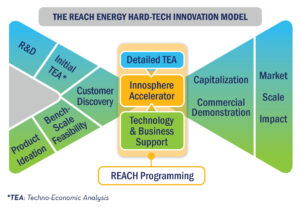 Characteristics of Energy HardTech
Rigorous techno-economic and lifecycle analysis
Complex prototyping and large-scale demonstrations
Corporate partnerships and sector-specific mentoring
Capital-intensive with unique risks